This is so cool. On 24 October Libera attended the donation ceremony with
the British Alumni Association and Children's Hour a non-profit, fundraising, fund-giving, and friends-raising organization
. It aims to build the playground for marginalized children in
Makati City, Philippines. Besides, a portion of their benefit from the Christmas concert will be donated to Children's Hour. In the ceremony Libera was also declared as
Ambassadors of Goodwill. Wow, proud of you guys.
The British Alumni Association was donating
P150,000.00 to
Children's Hour. Former Finance Secretary and British Alumni Association Chairman Roberto de Ocampo, British Ambassador to the Philippines Stephen Lillie and a distinguished member of the British Council were the ones who turned over the check to Children's Hour Executive Director Evangeline T. Mayuga.
A permanent plaque or marker was unveiled to the eyes of the public and the press.
The unveiling of the plaque was done by selected marginalized children of Calauan, Laguna and selected Libera members – Steffan Leadbeater, Barney Lindsell, Eoghan McCarthy, Ciaran Bradbury-Hickey and Thomas Delgado-Little.
Libera boys with the Philippines kids
The plaque-Libera Playground
Donated By: British Alumni Association
(Under the Chairmanship of Former Secretary of Finance Roberto de Ocampo)
With the Special Acknowledgement of LIBERA, the chart-topping London boys choir whose concert in Manila as Ambassadors of Goodwill helped raised funds for this project and foster Philippines-UK Friendship.
In return, Children's Hour's Executive Director presented a Certificate of Appreciation to Libera and British Alumni Association for their donations and acts of goodwill.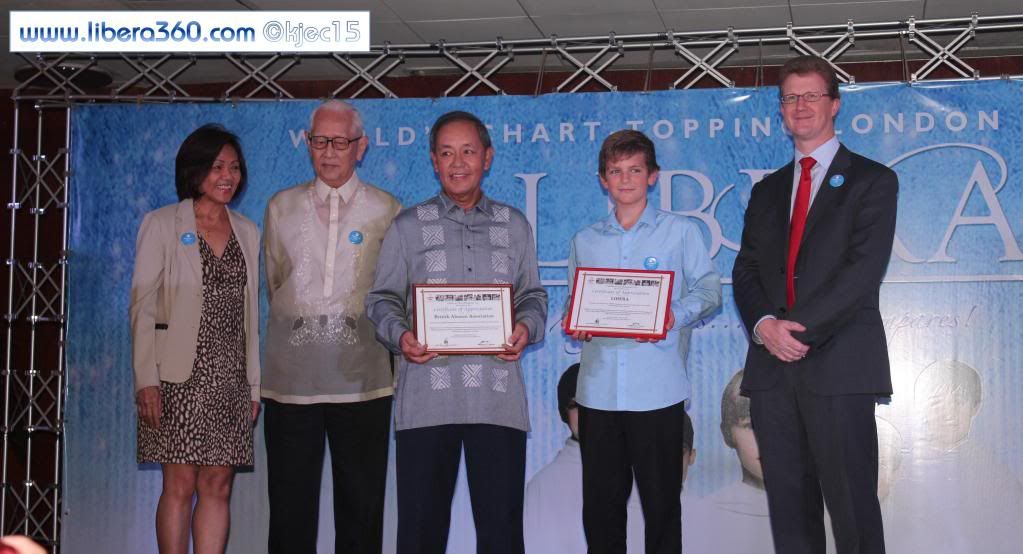 Stefan was representative from Libera
Oh my, Josh is so tall. WOW! (Sorry out of topic, lol)
Read the full article here at Libera360 site.